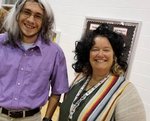 Mr. Parker and Mrs. Davidson sporting their wigs while sharing their WIGs.
As a Leader in Me school, the teachers at West Side have shared with students their WIGs. You may be asking, "What is a WIG? " This explanation was borrowed from leaderinmeblog.org.
Involving students in goal setting yields powerful results! We see students as young as four or five years old setting and achieving goals in literacy, math, attendance, behavior, and leadership.
Once a student sets a goal with his or her teacher, the essential question becomes "What will it take to achieve that goal?"
In Leader in Me Schools, we teach students to set "Wildly Important Goals," or WIGs. WIGs are the vital few goals that must be accomplished in order to be successful. Another way to think about the "G" in WIG is gap. "In what area is there a gap between where I am now and where I need to be?" That's where a WIG would be created.
A WIG is expressed in a statement that is specific, measurable, and time-bound. For example, "Learn all multiplication facts from the 3's through the 6's by December 15." Having a specific goal helps students see where they need to be and by when.
Has your child told you about his/ her WIG?